Why do we have Easter eggs?
Easter is only a few weeks away, but the shelves have been full of Easter eggs for weeks, tempting us to reach out and add them to the shopping basket at the last minute.
They're deceptive little things, they look so small that you think 'I'll just buy a bag and it will last us a week', that bag has never made it through more than two nights. Unwrapping those little ovals of chocolate goodness is too easy, they're so small that surely a large handful is only the equivalent of a chocolate bar?
Whilst munching away on chocolate, in preparation for more chocolate, it got me thinking about the origins of the humble Easter egg. How does this fit into the religious significance of Easter?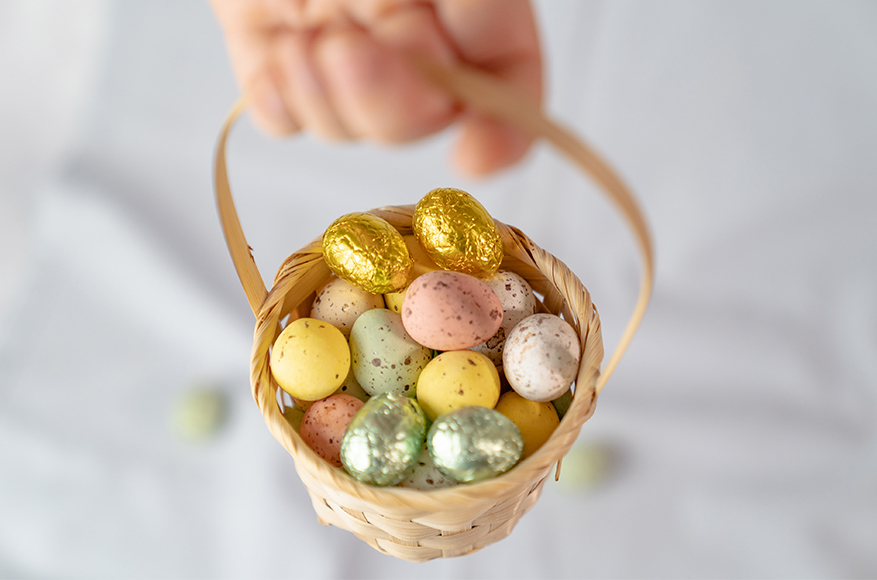 There are a few different theories out there as to how the celebration of Easter and Easter eggs became so entwined.
Traditionally eggs have been a symbol of fertility and rebirth. Eggs were used to celebrate the Anglo-Saxon festival for the goddess Eastre and the coming of spring. The eggs were eaten and possibly buried to symbolise the resurrection of nature after winter and encourage fertility. It is thought that Christian missionaries may have encouraged the link between the holy days of Easter and this pagan festival to try and encourage conversion to Christianity.
The second belief is that the egg symbolises the empty tomb of Jesus, hence why they were predominantly hollow. In early Orthodox churches, Easter eggs were handed out by the priests at the end of the Holy Saturday congregation. The hard shell represented the sealed tomb and when the egg was cracked, it represented Jesus' resurrection. This also marked the first time Christians could eat eggs after Lent, a fasting period of 40 days where abstinence from meat and eggs is observed.
Nowadays the importance of the humble Easter egg has changed and developed. My childhood memories are being given $5 and let loose in a store. The hardest decision was do I go for the 1kg egg which was the size of my head, but the chocolate tasted like soap. Or do I choose quality over quantity and get a couple of Belgian eggs.
These childhood memories are entertaining but also always predominantly family focused, my brother was right there beside me, debating the decision with me. My sister would get whatever I got, she was my little shadow.
At Mad Millie, however you choose to celebrate Easter, with or without eggs, we hope you are spending the time off with friends and family. We think it's so important to take every opportunity to step back and appreciate what we have and who we have around us. Quality time is always better than quantity (I learnt that lesson, but it took a couple of years in the Easter egg department).
Why not spend one afternoon getting creative in the kitchen together and making some Chocolate Sourdough Hot Cross Buns? Or let the inner child loose and make an Easter egg hunt?
However you choose to spend your time, Happy Easter from the Mad Millie team!